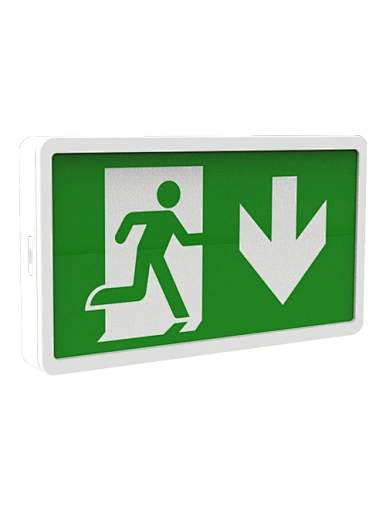 LED Exit Sign Slim Box
Features:
Maintained and Non-maintained mode optional;
IP40 protection;
ABS body and high light guide efficiency PMMA cover;
Test switch available;
Wall mounted
LiFePo4 and Ni-Cd batteryoptional;
Duration more than 3hours.
fire exit light box is developed to meet different market needs of led exit box. The product design of this fire exit light box is beautiful,exquisite and slim.

Different body and diffuser materials can be used in this led exit box, with or without test buttons, and lithium iron phosphate or nickel chromium batteries can be choosen for this fire exit light box.

On the basis of strict quality control, through different function selection, the cost differentiation can be realized to meet the needs of led exit box for different markets and customers .
| | |
| --- | --- |
| Input Voltage/ Frequency | 220-240VAC 50/60Hz |
| Input Wattage | 5W |
| Power Factor | 0.5 |
| Viewing Distance | 24M |
| Maintained and Non-maintained | M&NM |
| Selftest | optional |
| Test switch | Yes |
| Emergency Duration | >3hours |
| Battery pack  | LiFePO4 |
| Guarantee | 5Years |
| Life Expectancy | 50000H |
| IP Rating  | IP40 |
| Size | 343*230*45 mm |
| Installation type | Ceiling Mounted |