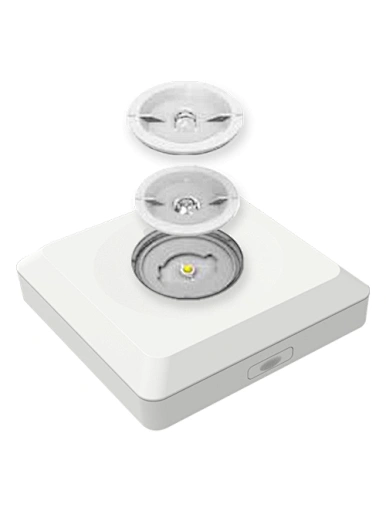 LED Surface Mounted Square Emergency Downlight
Features:
Non-maintained mode optional;
IP40 protection;
ABS body and high light guide efficiency PMMA diffuser;
Test switch available;
Ceiling mounted;
LiFePo4 and Ni-Cd batter yoptional;
Duration more than 3hours.
The emergency light downlight can be applied to homes, offices, shops, shopping malls and supermarkets with convenient installation and application where emergency down light is needed. High quality PMMA lens with high transmittance performance of emergency down light ensures the brightness of emergency light downlight in case of emergency state when emergency down light is necessary.

Compact outdoor ultra-low contour self testing emergency down light, with escape routes or outdoor models in the surface mounted emergency light downlight. High specification optical design and performance of this emergency down light allow for increased spacing, thereby reducing costs of the emergency light downlight. Provide complete drive and battery pack for this emergency light downlight.
1.6W and 200Lm with more than 3Hours emergency duration of this emergency light downlight. Testing switch can be available for this led surface mounted emergency down light. LiFePO4 / Ni-Cd battery can be optional for this emergency light downlight.

| | |
| --- | --- |
| Input Voltage/ Frequency | 220-240VAC 50/60Hz |
| Input Wattage | 5W |
| Viewing Distance | 24M |
| Maintained and Non-maintained | NM |
| Selftest | Optional |
| Test switch | Yes |
| Emergency Power Output  | 1.6W |
| Emergency Lumen Output | 200Lm |
| Emergency Duration | >3Hours |
| Battery pack  | LiFePO4 / Ni-Cd Optional |
| Guarantee | 5Years |
| IP Rating  | IP40 |
| Size | 120*120*30 mm |
| Installation type | Ceiling Mounted |